By Eman Zameer Rahman:
Weddings over here is an all year round major event.
They are always so exciting. That thrill of planning months before the main event- shopping, decorating, music collection, yes! The music and dance. That's the most important part to celebrate in a grand way.
Our weddings are Jamboree!
Hundreds of people are invited, it can't be a private matter. The celebration is not a 3 day event anymore, but there are numerous dholki one after another. Now, there is a bridal shower too in Pakistan. Ever wondered why don't the groom gets any shower?
Anyway, here are some traditional events of our Marriages:
Ultimate Wedding Song Collection 
A celestial couple- Who says? Scrutinizing by relatives is must!
Though couples are made in heaven, but still you have to assure people that, this pair is really made in heaven. They still won't cease judging the couple. After all, they come only to 'dance floor pe aag' laganay.
No matter what you do you can't get them satisfied, they always have bunch of unexpected complains.
Then taking those endless

selfiyan!
The best part of weddings is the dance? Naa.. It's the food!
All the food lovers favorite part is when the delicious aromas hit their senses, and they won't wait for the announcement unless they are really chivalrous. Uncles keep looking at the time and eyeing the host, giving them those looks that they have to announce the dawaat early as possible. No, not the aunties with kids will ever wait, "bacha rora raha, subha se kuch nae khaya es ne." And there she goes to the food spot, leaving us wondering "Kitna Kalabaaz Dil hai aunty ka".
Mehndi and the beats!
Yes, dance is the second favorite, after food.
Mehndi function is the most fun part of the wedding. The dhol, the luddi, the random moves, and the mehndi.
You have to make sure that all the dances are synchronized, by the unending dance practices which started months before the wedding. The random moves on dhol beats, and the karaoke which makes you sing 'Mehndi ni Mehndi' too.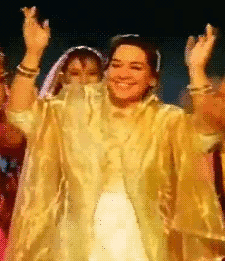 The dreamy atmosphere that is created when the groom enters the hall, with the song playing in the background.
And the heartbreaking rukhsati
Where all the makeup of the bride goes in vain, by her uncontrollable sobs.
'Chiriya da Chamba' chor ke jana asaan to nae"!
And you can't help but feel the blues, especially when songs like 'Banno Rani Ne Dais Paraye Jana'
The Nayi Dulhan always look like 'Jannat ki hoor' on her reception.
And everyone just forms queue to look at the 'chand ka mukhar'  on that day.
There you go hamara kaam to khatam ho gya par bichari Dulhan has to go on an unending list of invitation as a welcome from her new family and relatives. Kala Doriya situation begins for her.
Last, but not the least.
Your crush on that wedding
That cute guy in that wedding wearing 'Lathe Di Chaddar' which you can't keep your eyes off!
The pretty girl you look around for and smile whenever you see her. That moment when the surrounding pause, and only her dupatta is floating in the air.
So, finally you gather yourself and when you were just about to say 'Gal Sun Goriya', your phupho ki beti bumps onto you, shimmering her Jalwa.
…shattering your dream. Agh.
And that last last thing!
That Annoying aunty 
Who keeps on asking about your education, age and all your life, in short. She is ready to tie you up!
No matter what, our desi weddings are the most exuberant ones. It's thrilling from start to end!
For More blogs stay tuned to Taazi!